Built 1913 Louisville, KY 455,00 sq Ft
In the heart of Louisville, Kentucky's Central Business District, The Starks Building offers 455, 000 square feet of mixed use space while utilizing 14 stories of architecture. The building offers a unique office environment, with more natural light than any other building in the area. Located at the corner of 4th Street and Muhammad Ali Boulevard in the Central Business District, the Starks Building provides easy access to Louisville's Metro Area.
The beauty of the Starks Building is obvious at first glance. Designed by architect Daniel Burnham, famous for New York City's Flatiron Building, the Starks Building's architecture includes creamcolored bricks with classical motifs.
The building is constructed of steel reinforced concrete with clay tile infill and a brick and terracotta veneer. The exterior windows are tinted, single pane glass with anodized aluminum frames. Developed in two stages beginning in 1913, it was originally a "U" shaped structure. An addition for a new wing in 1927 was designed by the firm Graham, Anderson, Probst & White, to create a rectangular shape with a central sunlight well.
The second floor lobby is open to a 12-story interior sunlight well and features domestic marble, polished brass with mahogany accents and a fountain. In 1982, the light well was covered with a glass roof and converted into a dramatic atrium which includes the building's 12 stories. Shortly thereafter, in 1985, it was added to the National Registry of Historic Places, largely due to its architectural and engineering significance. The interior common spaces are decorated with solid mahogany doors and trim, hardwood floors and Italian Carrera marble walls. The ground floor lobby features 16' ceilings and custom brass lighting.
Hudson Holdings is dedicated to the restoration and preservation of the historic qualities that are unique to the era in which the Starks Building was constructed. It's future plans are to reduce to 25,000 square feet of retail space and reduce to 40,000 square feet of office space. Hudson Holdings will use the remainder square feet for 100 apartments and 230 hotel rooms.
To take advantage of the building's high-vaulted ceilings, Hudson Holdings will also add banquet and ballroom space. The renovated Starks Building will include a pool and gym for hotel guests and residents. A rooftop club and lobby bar will bring entertainment to the new mixed use space. Hudson Holdings envisions the Starks Building maintaining its position as the cornerstone of Downtown Louisville's Central Business District for years to come.
IN THE NEWS
WDRB 41 Reports on Hudson Holdings' plans for The Starks Building
Building Notes to John P. Starks - 1913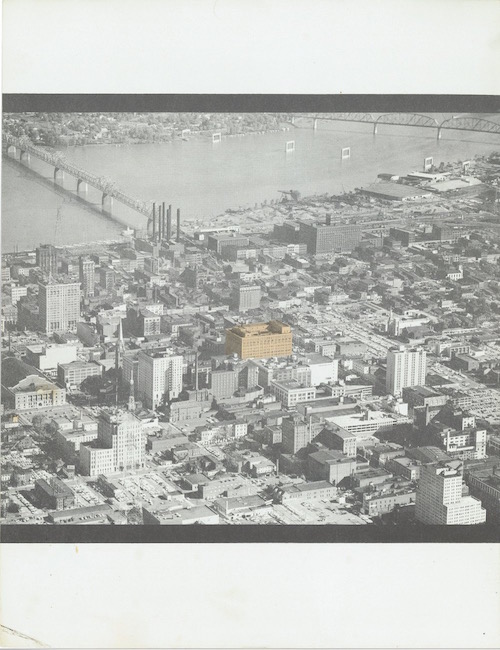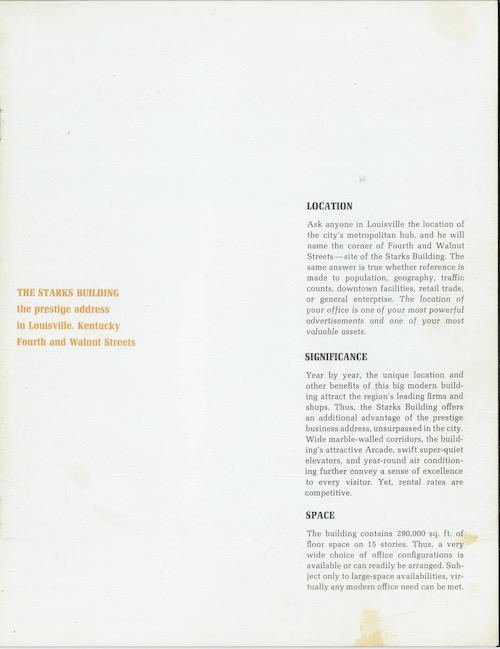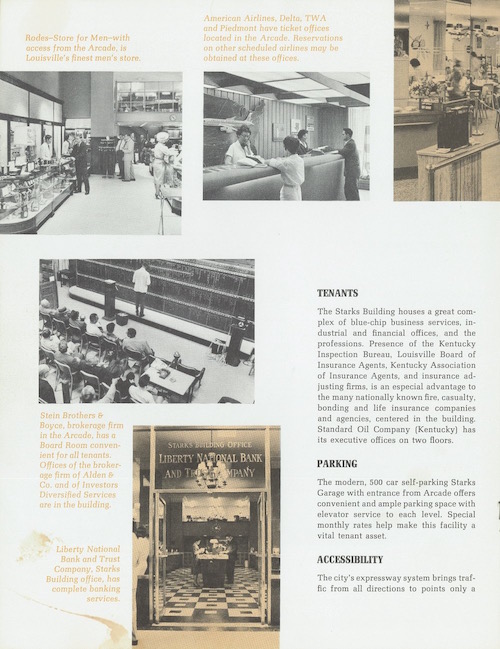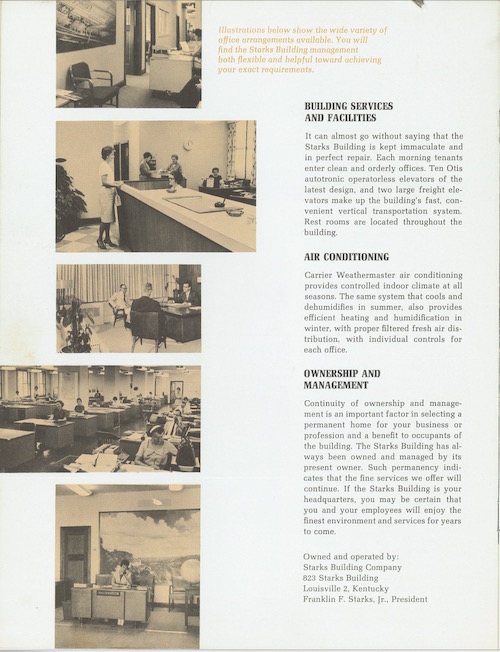 STARKS Building
455 South 4th St
Louisville, KY 40202